Auburn Photography studio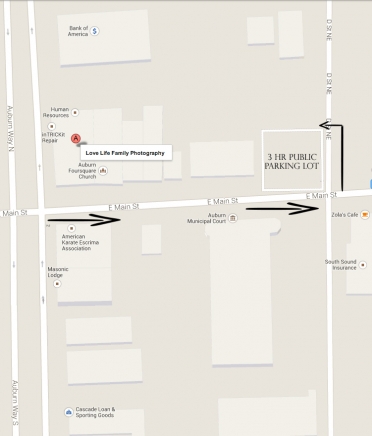 Here are directions to Our Auburn photography studio is conveniently placed just off of Hwy 18, Hwy 167, I-405 & I-5.
Our studio address:
2 Auburn Way N
Auburn WA 98002
Directions:
Click our address above and it will conveniently take you directly to GoogleMaps.com for driving directions.  Type in your address and Wahallaa; you are well on your way!
Parking:
Where to park? Great question!  The very best place to park is at the FREE public 3 hour parking at:
E Main St & D St NE
This parking lot is across the street from the Municipal Building/ Police station and above the H & R Block 🙂
Park and give me a call at 425-417-4545
I will come on down and walk you into our Auburn photography studio. Can't wait to see you!!
Got Questions?? I've got answers!
Call/Text: 425-417-4545 email: lovelifefamilyphotography@gmail.com
Contact Me